Hirado to exhibit at the ARA Show 2019 (Feb. 18 – 20, 2019)
Details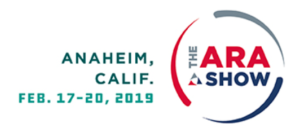 Hirado is pleased to announce that we will be exhibiting at the ARA Show in Anaheim, U.S.A from February 18th to February 20th 2019.
The ARA show is one of the biggest trade fairs for the American equipment rental industry and features construction/industrial equipment, general tool/light construction equipment and party/special event equipment.
Our booth details and equipment on display can be found below:
Hirado Kinzoku Kogyou
Booth No: 5284
Place: Anaheim Convention Center, Anaheim, California, United States of America
Equipment on Display: 
Hydraulic Pump HM-1062
And more
We look forward to seeing you at our booth.