Heavy Duty Rock Splitter for Excavators
Details
(Scroll below for video of the equipment in action)
The Powerful Rock Splitter is a larger, more powerful version of Hirado's renowned Rock Splitter.
Used on excavators, cranes or other carriers with hydraulics, applications include the breaking of rocks and concrete foundations.
Hirado's Rock Splitter has been in use since 1980 in construction sites in Japan and worldwide and is renowned for its quality, durability and extreme power.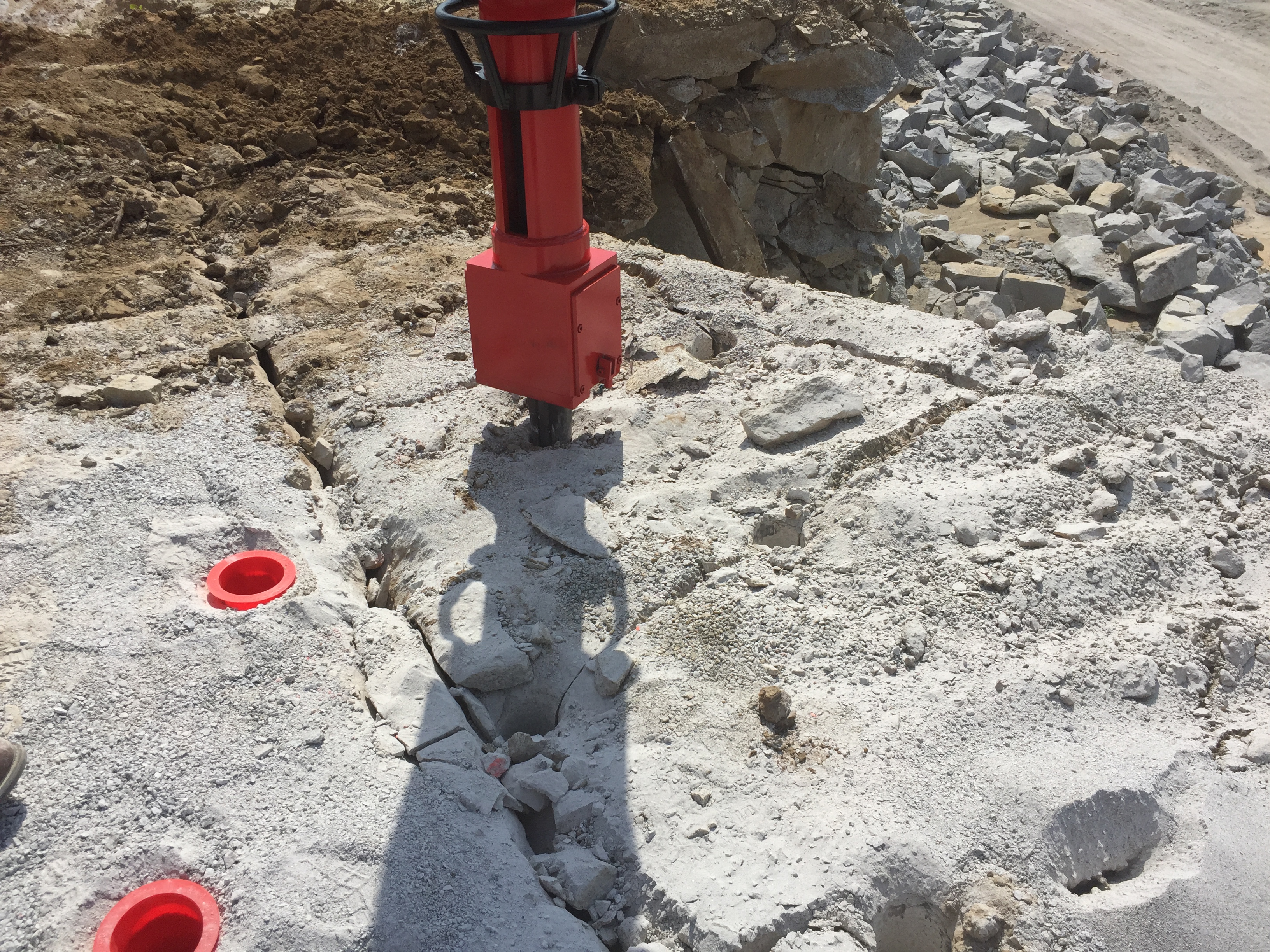 Restrictions for blasting rock are getting stricter worldwide, prompting users to find a safer solution.
Altough Rock Breaker/Hammers can be a solution, noise,vibration, dust regulations or simply the hardness of the rock may prevent the the use of them.
Hirado's Powerful Rock Splitter is the solution to all of these problems as it is safe, vibration free, dust free and extremely powerful.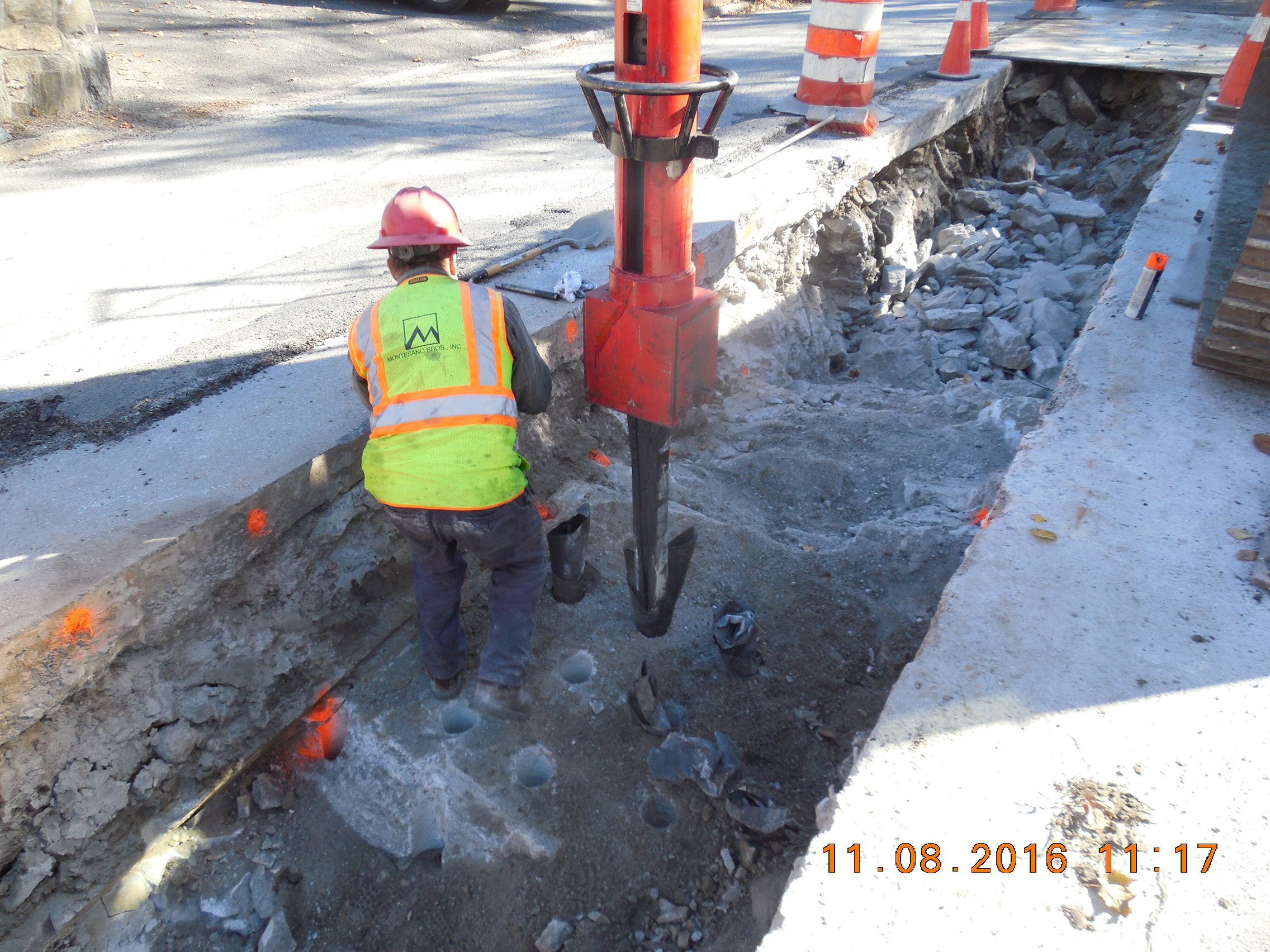 The wedge principle (Shown on the right and below) works by adding  power to the A direction, resulting in the power transferred to the B direction to become
even larger. The eventual direction power and splitting distance of B are decided by the counter wedge angle.
Hirado's Powerful Rock Splitter makes full use of this principle by using the hydraulic pressure to push into the A direction and generate splitting powers up to 3600 ton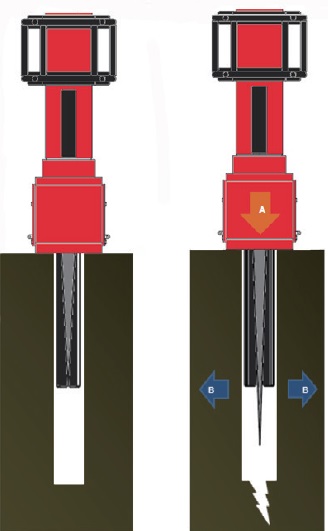 The wedges of the Powerful Rock Splitter are specially designed to endure extreme power and last long. In addition to the standard wedges, customized wedges can be produced as well to suit the needs of the user.
Operation of the Powerful Rock Splitter is simple and it can be attached to a majority of excavators (7 ton+)
Depending on the model, the Powerful Rock Splitter uses 25 or 35MPa of Hydraulic Pressure, which is achieved by connecting the hoses to the excavator connections.
In addition, Hirado's Powerful Rock Splitter utilizes a unique and innovative valve system. This system ensures that the pressure from the excavator does not need
to be calibrated, prevents wear and damage due to overpressure and allows for a simple plug-and-go action to save valuable time.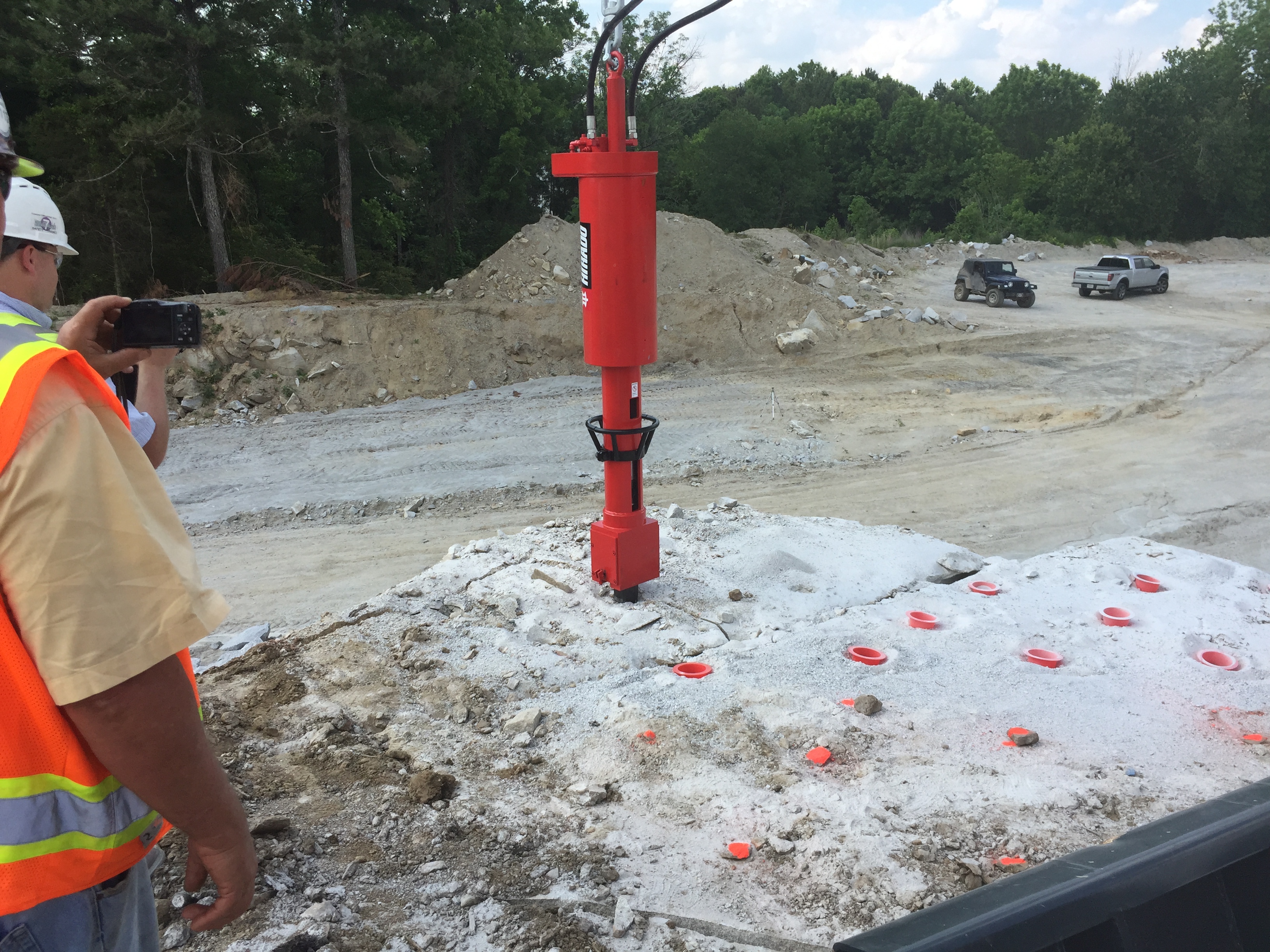 The Powerful Rock Splitter is efficient, safe, fast and powerful and can be used both vertically and horizontally for a variety of rock splitting work in quarries, open pit construction sites, tunnels and mining.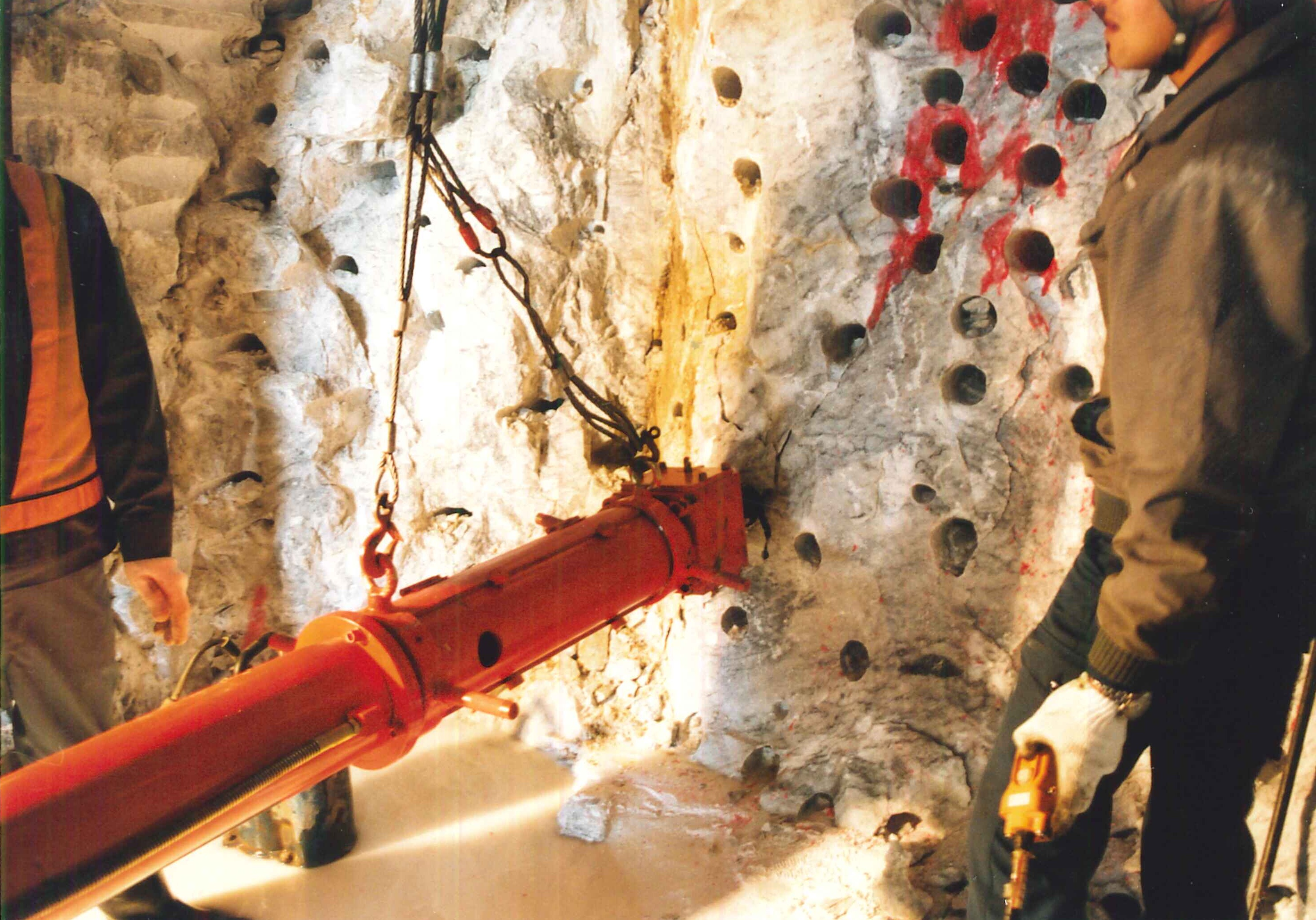 Specifications
| | | | | | | | | | |
| --- | --- | --- | --- | --- | --- | --- | --- | --- | --- |
| Model | Wedge Diameter (mm) | Wedge Effective Length (mm) | Wedge Splitting Distance (mm) | Length(mm) | Weight (kg) | Bit Diameter (mm) | Drilling Length (mm) | Breaking Power | Required Hydraulic Pressure |
| N50W72A600 | 72 | 600 | 25 | 3105 | 700 | 76 | 1300 | 26MN/2,651ton | 25mpa/250bar |
| N50W85A700 | 85 | 700 | 25 | 3205 | 700 | 89 | 1300 | 26MN/2,651ton | 25mpa/250bar |
| N50W95A700 | 95 | 700 | 25 | 3205 | 700 | 102 | 1300 | 26MN/2,651ton | 25mpa/250bar |
| N50W72A1000 | 72 | 100 | 25 | 3505 | 750 | 76 | 1600 | 26MN/2,651ton | 25mpa/250bar |
| N50W95A1000 | 95 | 1000 | 25 | 3505 | 770 | 102 | 1600 | 26MN/2,651ton | 25mpa/250bar |
| R50W135A1000 | 135 | 1000 | 25 | 3675 | 1400 | 140 | 1600 | 36MN/3,651ton | 35mpa/350bar |