The Revolutionary Foundry Wedge
Details
The Casting Splitter EP-Series, for splitting gates from iron castings.
Compared to traditional hammering, plasma cutting and grinding methods, the EP-Series provide easier, faster and safer solutions.
In combination with Hirado's self developed pump, the EP Casting Splitter splits the unnecessary parts from the casting safely and easily within seconds and without damage.
The EP Splitter is lightweight, compact and fully rotatable, allowing for different angles of splitting.
Multiple models are available depending on the gate size and power necessary. In addition, all models can be adapted with different handles depending on the position of the conveyor belt and/or working conditions.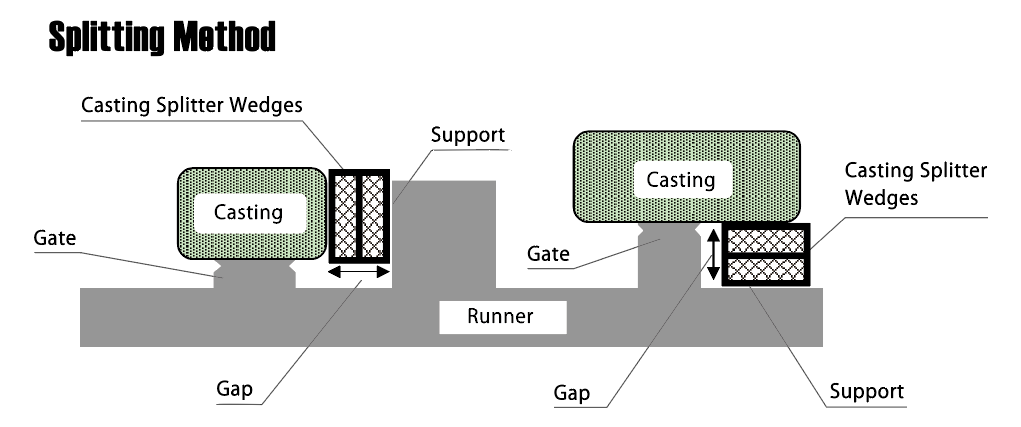 Specifications
| | | | | | | | | |
| --- | --- | --- | --- | --- | --- | --- | --- | --- |
| Model | Length | Weight | Split Force | Breakable Gate | Opening Width | Wedge Top Width | Wedge Base Width | Wedge Height |
| EP30(20) | 488mm | 8kg | 50kN | 16mm x 16mm | 20mm | 12mm | 60mm | 30mm |
| EP-40 | 569mm | 12kg | 72kN | 20mm X 20mm | 30mm | 12mm | 60mm | 31mm |
| EP-80N(30) | 526mm | 18kg | 191kN | 25mm x 25mm | 30mm | 12mm | 68mm | 44mm |
| EP-80N(30)L | 571mm | 19kg | 191kN | 25mm x 25mm | 30mm | 12mm | 68mm | 44mm |
| EP-80N(23) | 526mm | 17kg | 191kN | 30mm x 30mm | 23mm | 12mm | 75mm | 33mm |
| EP-80N(23)L | 571mm | 19kg | 191kN | 30mm x 30mm | 23mm | 12mm | 75mm | 44mm |
| EP-100(32) | 735mm | 25kg | 331kN | 40mm x 40mm | 32mm | 15mm | 83mm | 31mm |
| EP-150(32) | 793mm | 31kg | 500kN | 50mm x 50mm | 32mm | 15mm | 90mm | 34mm |
| EP-200(32) | 812mm | 52kg | 682kN | 57mm x 57mm | 32mm | 15mm | 90mm | 55mm |